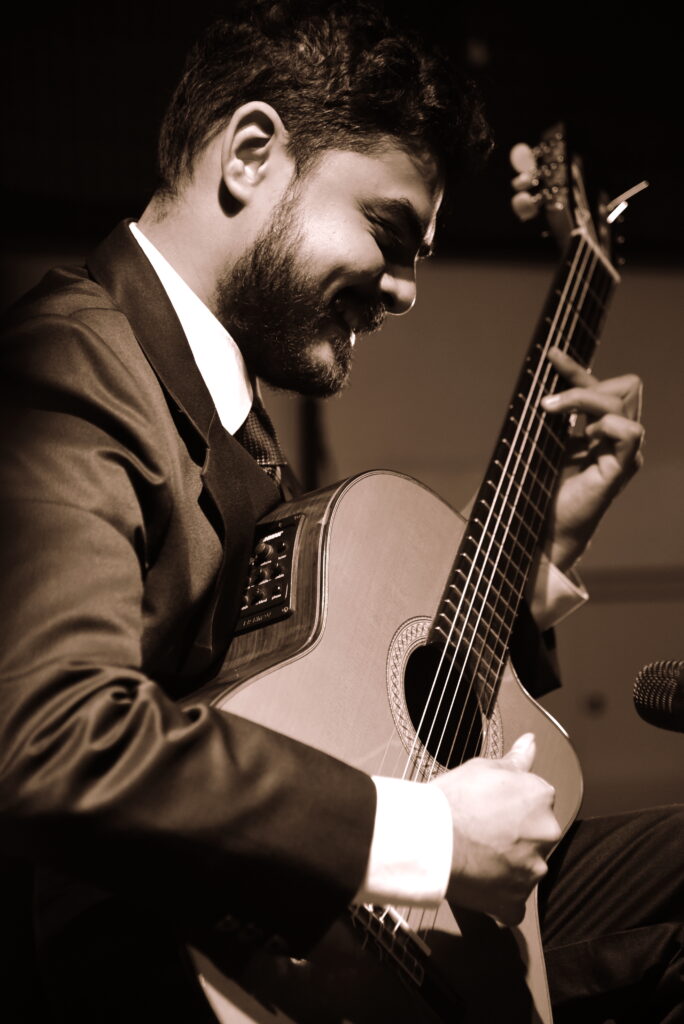 SHORT BIO

Santanu Datta is an Indian composer of contemporary classical music and one of the leading classical guitarists of the country. A graduate of IIT Kharagpur (MTech, BTech (H), 2006-2011) and an alumnus of the Ecole Normale de Musique de Paris (Diplôme Supérieur (Masters), 2011-2016), Santanu studied composition, writing and aesthetics, orchestration, analysis, classical guitar (DEM, FTCL and LRSM), chamber music and historical performance practices with musicians like Edith Lejet, Stéphane Delplace, Anthony Girard, Narcis Bonet, François Martin and others.  Santanu has performed widely as a soloist and his compositions have been performed by musicians from all over the world.
BIOGRAPHY
Born in a family of doctors in 1988, Santanu grew up in a musical environment in a small town in West Bengal. His musical journey began very early, at the tender age of 5, with his mother, a passionate singer of Hindustani Classical music. ​During his adolescence, Santanu discovered the Classical Guitar by chance. His teenage tryst with the instrument continued until it became his passion. ​After graduating from the Indian Institute of Technology in 2011, Santanu moved to Paris to study Western Art Music.
​
Santanu received rigorous training in counterpoint and harmony with his mentor Stéphane Delplace for several years. In 2013, he started learning composition with Mme. Édith Lejet and strived to find his own musical language. In 2016, he completed the Diplôme Supérieur (Masters) in Composition from the Ecole Normale de Musique de Paris with unanimous voting of the jury. Santanu also studied orchestration, first with David Lampel, and later with Anthony Girard; and music analysis with Narcis Bonet, Jean-Dominique Pasquet and Ziad Kreidy. His musical research is based on asymmetric modes and set theory. He has composed for various instruments and instrumental ensembles, including the orchestra and his music has been performed by musicians from all around the world.
​A decisive point in his career as a guitarist was the meeting with the French lutist and guitarist François Martin in 2011 in Paris, with whom he studied for four years and completed the DEM (Diplôme d'Étude Musicale). Eventually Santanu became the first Indian guitarist to complete FTCL (Fellow of Trinity College London) and LRSM (Licentiate of Royal Schools of Music) in guitar performance. Santanu also took Chamber Music lessons with the French violinist Jacques Maillard and played with various instrumental ensembles.
Currently based in India, Santanu works as a composer, concert guitarist and music educator. He has scored for various films and documentaries and has performed at several venues in India as soloist and in group, including the Bangalore School of Music, India International Centre (Delhi), Kala Academy (Goa), the Calcutta School of Music, Mazda Hall (Pune), Alliance Française de Delhi among others. His recent collaborations include the formation and India tour of the Santanu Datta Trio with Tabla maestro Pt. Subhasis Bhattacharjee, which was hailed as "an Indo-French musical treat" by The Hindu. Santanu has also conducted several public workshops and taught hundreds of music enthusiasts at several venues, including the K M Music Conservatory, the Poona Music Society, the Alliance Française du Bengale among others.